Entry & Career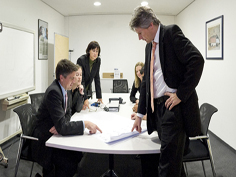 Joining IFE
In order to help you adapt to our technologies, related processes and the international company culture, we lay a special stress on a structured adaptation process.
Each and every new employee attends a several-day entry training where he/she acquires all information necessary for a successful start in our company. Afterwards, he/she gets a specific adaptation plan for a particular work position.
The continuous education of our employees is a great priority for us. We offer a wide range of trainings from the personal development through professional trainings to foreign language courses. We have three well-equipped training rooms available.